From the moment of entering the boundless world of finance, all traders, whether they are just a beginner or an experienced one, are at risk of making a mistake. If you are trading, the mistakes are highly possible and you should be very careful to avoid them because a small mistake can cause great losses.

Below the most common mistakes often made by the traders are presented. Read 

them attentively and try to avoid making them.
Common Trading Mistakes
| | |
| --- | --- |
| Author | Sona Matasyan |
| Language | English |
| Genre | Finance, Education |
| Educational use | Avoiding the key trading mistakes |
| Pages | 8 |
| Organization | IFC Markets |
| Price | Free |
| Book format | PDF |
| Publish date | 2020 |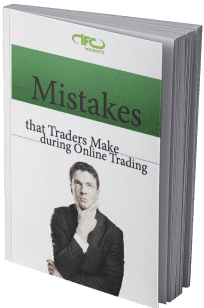 Mistakes that Traders Make during Online Trading
Which are the Most Widespread Trading Mistakes?
How can They be Avoided?
Can the Struggle with Mistakes Lead Traders to Success?
Common Trading Mistakes PDF
2. Trading Without A Plan
3
5. Using Too Much Leverage
5
6. Having Unrealistic Expectations
6
7. Not Setting A Stop Loss
7
Brief Summary of Common Mistakes Traders Make PDF
1. Over-trading
Online trading is really very attractive, especially when you make profit. But after some constant profits when you start trading more and more, you may forget about the "STOP".
2. Trading Without A Plan
Another common mistake traders make is trading without having an exact trading plan. You may ask why do I need a trading plan, what will it give to me?
3. Trading With Emotions
The next most common mistake that is made during online trading is trading with emotions. When you make up your mind of investing, you must be sure that you can keep your emotions under control.
4. Lack of Knowledge
One of the reasons traders face losses in online trading is because they don't have the right education or understanding of it.
5. Using Too Much Leverage
All traders have an opportunity to trade with greater volume due to the leverage which is provided by a broker. As it's known, every good thing has also a bad side, so the same is for leverage.
6. Having Unrealistic Expectations
Having unrealistic expectations is another common mistake that makes traders face losses.
7. Not Setting A Stop Loss
Still, another mistake that is usually made is trading without a stop loss. You should have a clear exit strategy when you enter a trade, that is to say you should know when and where to put your stop loss order.
Common Mistakes Beginners Make When Trading PDF
Trying trading for a few weeks and coming to failure traders say that it is impossible to win in it. But the matter is that traders tend to make the same mistakes over and over again. However, most of these mistakes can be easily avoided.
So, if you want to succeed in trading the markets, first you should learn what mistakes traders have made before you, study and avoid them.
The purpose of this book is to share some of the major mistakes that traders are used to make during trading. They may help both the beginners and experienced traders to avoid high losses and trade more wisely.
Technical Analysis and Trading Books (PDF)
Learn Trading with IFC Markets
Register Now and Get Private Access to Our Forex Library