You can set an order on any used instrument by the following ways:
by the "Orders" function from the context menu, by choosing the preferred instrument from the tables "Quotes", "Open positions", "Sum open positions", "Orders".
by the "Set order" button from the toolbar of the most of feature windows of the terminal.
By the above mentioned function or button a window opens with types of a pending order: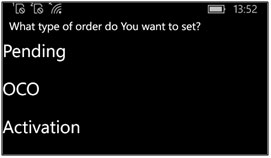 By choosing, for example, "Pending" type a window opens, where you need to set all the necessary parameters:
Order volume (in units of the base currency).
Direction ("Buy"/"Sell")
Order price
Stop Loss and Take Profit levels
Trailing Stop mode (when activated, it is executed on the server-side)
"Lock" checkbox (works when the order is activated);
order duration "GTC"/"Day"
You may also choose another instrument for the order from the list of the used instruments, by clicking on the field of the particular instrument or from the list of all instruments (by the upper-right corner button in the form of 3 points).
For setting an order you need to click the "OK" button. Next, a window will open notifying the operation result: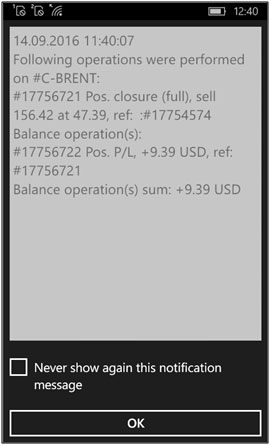 If this operation was not performed for any reason (for example, the order price was too close to the market price), reasons for rejection will be indicated in this window. Additionally, you can cancel further notifications about the results, ticking the checkbox "Never show this notification message".
Close the notification window, by clicking "Close" button or the hard button "Back".