Markets rally in Trump victory aftermath - 10.11.2016
US stocks rally as investors reassess the effect of Trump victory
US stocks rallied on Wednesday after investor confidence was restored following initial shock from surprise Trump victory. The dollar ended higher: the live dollar index data show the ICE US Dollar index, a measure of the dollar's strength against a basket of six rival currencies, closed 0.66% higher at 98.582. The S&P 500 gained 1.1% settling at 2163.19. led by real estate shares. The Dow Jones industrial average closed 1.4% higher at 18589.04, led by Pfizer and Caterpillar shares. The Nasdaq added 1.1% to 5251.07.
Stocks ended higher following sharp losses in futures markets after Trump gained a lead over the Democratic candidate. Financial, health-care and industrial stocks led the broad market index, offsetting losses in defensive sectors such as utilities and consumer staples. Trump mentioned increased spending in his acceptance speech, which will help the economy and stocks in medium term. Today at 14:30 CET Initial Jobless Claims and Continuing Claims will be released, the tentative outlook is positive for dollar. At 15:15 CET Federal Reserve Bank of St. Louis President James Bullard will speak on US Economic Outlook in St. Louis. At 16:30 CET Natural Gas Storage Change will be released by the Energy Information Agency. And at 20:00 CET October Budget Statement will be published, the outlook is negative for dollar.
European stocks advance on prospect of more US fiscal stimulus
European stocks closed higher on Wednesday recovering from sharp early losses after market sentiment was buoyed by Trump's acceptance speech promising expansionary policy measures such as infrastructure spending and corporate tax cuts. The euro weakened while the British Pound strengthened against the dollar. The Stoxx Europe 600 ended 1.5% higher recovering from early losses as much as 2.4%. Germany's DAX 30 ended 1.5% higher at 10646.01. France's CAC 40 gained 1.5% and UK's FTSE 100 index added 1.0% closing at 6911.84.
Mining, health-care and financial shares were the biggest gainers. Antofagasta shares rallied 9.2%and Glencore jumped 4.1% as gold advanced and base metals surged on prospect of more infrastructure spending. Italian stocks retreated on increased concern about a constitutional referendum in next month. Prime Minister Matteo Renzi and his reformist agenda are expected to be undermined if the "no" campaign prevails. No important dat are expected today in euro-zone.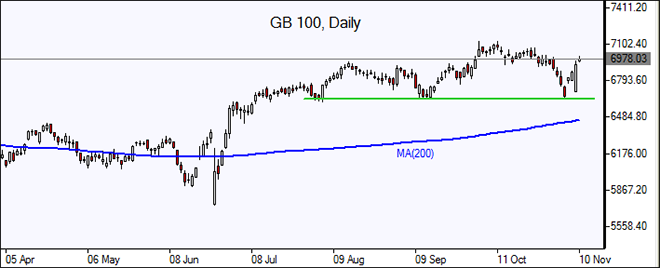 Asian markets stage strong comeback
Asian stocks are rebounding today as investors' risk appetite got a boost from the prospect of accelerated US growth after Trump promised more infrastructure spending, tax cuts and higher defense spending. Nikkei rallied 6.7% to 17344.42, recovering from 5.4% loss on Wednesday even as yen slipped against the dollar. Chinese stocks rose to a 10-month high today with the Shanghai Composite Index up 1.4% and Hong Kong's Hang Seng index 2.1% higher. Australia's All Ordinaries Index jumped 3.3% as the Australian dollar edged higher against the dollar.
Oil rises despite US inventories build
Oil futures prices are extending gains today despite expectations for more pro-energy US policies under Trump presidency as in his campaign speeches he advocated for more oil and gas output and less red tape which holds back billions of dollars of investment in new projects. Trump has also promised to rescind the Environmental Protection Agency's Clean Water Rule, which energy producers consider an impediment for expansion of fracking production. Prices ended higher the previous day despite the Energy Information Administration report of a second straight weekly rise in US crude supplies. January Brent crude gained 0.7% to $46.36 a barrel on Wednesday on London's ICE Futures exchange.
See Also
Follow the Market with Our Live Tools and Calendars
Market Analysis Lab
from Our Top Experts