Commodity Channel Index - CCI Indicator
CCI Indicator

Definition

The Commodity Channel Index is an indicator by Donald Lambert. Despite the original purpose to identify new trends, it's nowadays widely used to measure the current price levels in relation to the average one.
For more information how to set the indicator in the terminal please click here
Test the Indicator in Action
Once opened Demo you will be supplied with educational materials and online support in your own language
How to Use CCI Indicator
Commodity Channel Index indicator oscillates around the naught line tending to stay within the range from -100 to +100. The naught line represents the level of an average balanced price. The higher the indicator surges above the naught line the more overvalued the security is. The further the CCI indicator plunges into the negative area the more potential for growth the price may have.
Still the unbalanced price alone may not serve as a clear indicator neither to the direction the price is following nor to its strength. There are critical values and the crossing directions which need to be looked at closely:
Exceeding past the 100 level suggests a possible further upward movement
Decreasing past the 100 level indicates a U-turn and serves as a signal to sell.
Decreasing past the -100 level suggests a possible further downward movement
Exceeding past the -100 level indicates a U-turn and serves as a signal to buy.
Crossing the naught line upwards from below serves as a confirmation to buy
Crossing the naught line downwards from above serves a confirmation to sell.
Smaller CCI indicator period increases its sensitivity. Shifting critical levels to 200 allows to exclude insignificant price fluctuations.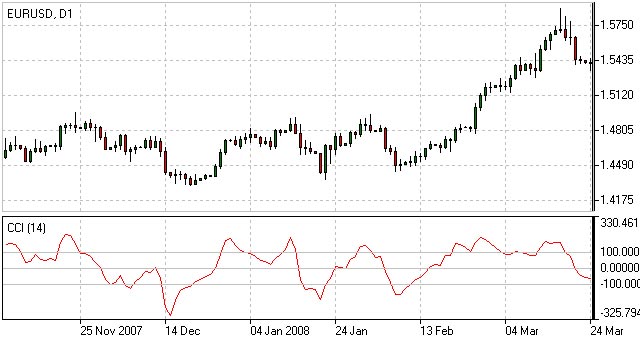 Commodity Channel Index (CCI)
CCI Trading Strategy
CCI trading strategy is used by most traders, investors and chartists as an overbought or oversold oscillator. The basic strategy of CCI is to watch the readings above +100 and below -100. The readings above +100 are considered overbought and generate buy signals. The readings below -100 are considered oversold and generate sell signals. Though the Commodity Channel Index was initially developed for commodities, it is also used for trading stock index futures and options.
How to use in trading platform
Use indicators after downloading one of the trading platforms, offered by IFC Markets.