Information Window "News"
Enabling news subscription
News in the terminal is turned off by default. You can enable news from the main menu - "Settings" – "Terminal" – "News".
In the opened dialog box you can enable news, set automatic prolongation mode for subscription, news history properties (News Storage Time and News max in memory), as well as the amount of downloaded News when connected.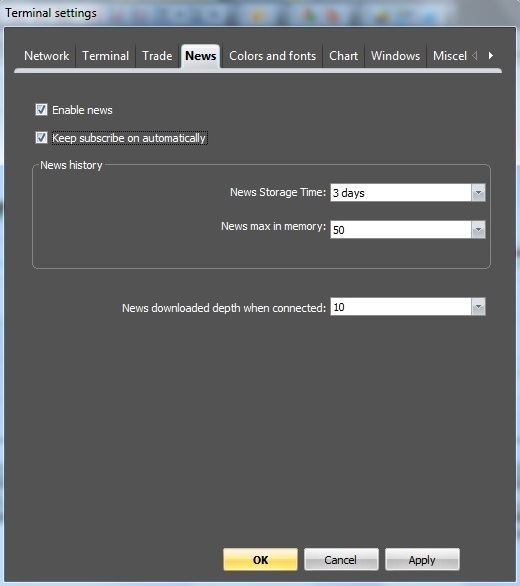 Tick "Enable news" and "Keep subscribe on automatically" if necessary.
The news feed is available if the account equity is more than $0.00.
Working with the News window
"News" information window is opened from the main menu - "View" – "News".
"News" window is continuously updated with fresh news and can consist of two sections. The upper section includes news headlines (with fields – Time, Headline, Providers and Languages). The lower section includes news content. Additionally, you can call a separate window with the news content by double-clicking on the line.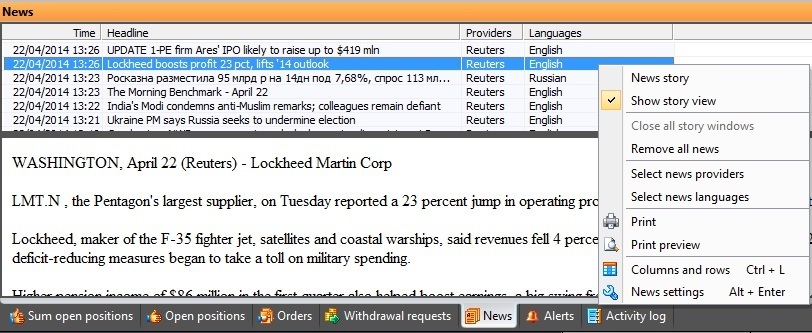 The context menu, called by right-clicking on the "News" window, includes the following functions:
News story – calling a separate window with the full text of the news.
Show story view – enable/disable the mode of news content display in the lower section of "News" window.
Remove all news.
Select news providers.
Select news languages (in the example two languages are selected – English and Russian).
Print.
Print Preview.
Columns and rows – the functions of displaying columns of "News" window.
News settings.