To open a position click on the preferred instrument in the "Quotations" window (click on the "Trading" tab to open quotes) and the chart window for this instrument will open. Click on the "Market" from the panel and an additional window will pop up with trading parameters: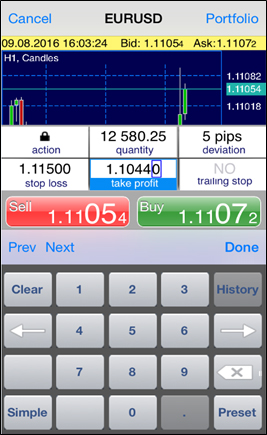 The following parameters are set in this window:
trading volume (in asset units);
levels of linked orders – Stop loss and Take Profit;
level of Trailing Stop (server side execution);
"action" button for locked and unlocked modes;
preferred price deviation.
You can move the pointer inside the numeric fields by right and left signs on the special keyboard, opened when setting parameters.
Two buttons - "Buy" (green) and "Sell" (red) with current Ask and Bid prices are situated in this window. By clicking on one of these buttons you open a position. Then the window with notification of trade result opens: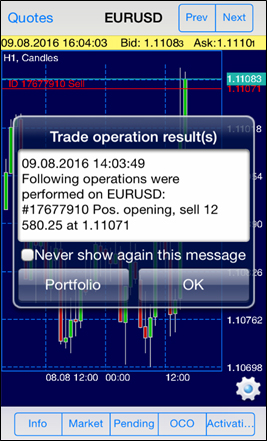 If the trade was not executed for any reason, the opened window will indicate the reason. Additionally, you may cancel further notices of trade results by ticking "Never show again this message". Close the notice window by "OK" button to return to the chart or by "Portfolio" button to return to the list of open positions.